Golf at Joondalup Resort is an experience most golfers around the world can only dream about, with an incredible balance of scenery and difficulty.  
Joondalup Resort's 27-hole championship golf course gives golfers a challenging, uncompromising course layout to hone their skills and work on that handicap. 
Let's take a look at five reasons to play golf at Joondalup Resort. 
1. Robert Trent Jones Jr designed our course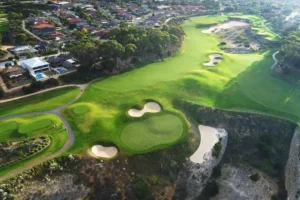 If you're looking for a world-class golfing experience, Joondalup Resort's 27-hole championship course is as good as it gets in Western Australia.
Designed by the internationally renowned Robert Trent Jones Jr, Joondalup Resort's golf course offers a unique challenge, scenic beauty, and a truly unforgettable experience. 
2. Variety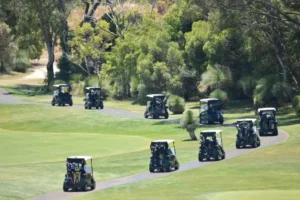 Did you know that Joondalup Resort features three 9-hole golf courses?
Whether it's the Dune Course, Quarry Course, or Lake Course, there's so much variety at Joondalup Resort to keep even the most-experienced golfers coming back for more!
For the serious golf-lover out there, find out more about Joondalup Resort's Prestige Pass.
3. Free Beginner Ladies' Golf Lessons
Take your golf game to the next level with free beginner ladies' golf lessons hosted by pro golfer Jessica Speechley. 
On Wednesdays, at the beginning of each month, Jessica will take groups of 20 or less through the fundamentals of golf! 
4. World-Class Dining

After a challenging round of golf, there's nothing quite like kicking back and relaxing with a good meal and a refreshing drink. Fortunately, when you play a round at Joondalup Resort, you barely have to leave the course to enjoy some world-class dining.

Cafe 28 is the perfect spot for a bite to eat with golf-side views, barista-made coffee, all-day breakfast, and so much more. 
If you're feeling a bit fancy, The Alcove has you covered. Enjoy our modern surroundings, alfresco dining, and stunning views. 
5. The driving range is open seven days a week
Need to work on your drive? Joondalup Resort's driving range is open from 6:00am – 6:00pm every day!  (last bucket of balls sold at 5.30pm)
Like our championship golf course, the driving range is open to the public, and a bucket of 100 balls is just $21. The driving range is closed on Wednesdays until 10.30am for weekly maintenance.