Joondalup Resort's signature restaurant, The Alcove has an exciting new menu created by one of Perth's most acclaimed chefs, Stephen Clarke.
Stephen's new winter menu features local seafood and meat, including Albany oysters, Fremantle octopus and Mount Barker chicken, and our playful wine and cocktail list complements this fresh and seasonal menu.
Open daily to both resort guests and members of the public, The Alcove is a light-filled, modern restaurant complemented by floor-to-ceiling windows. Tucked inside Joondalup Resort, The Alcove is just a 25-minute drive north of Perth's CBD.
Diners can enjoy a pre-dinner drink in the cosy lounge bar before proceeding to the restaurant, and in the warmer months, take a seat outside to take in the tranquil views over the lagoon-style pool.
Unsure what to order? Here are our top five picks from The Alcove's new menu.
Crispy Leeuwin Coast Akoya oysters
Leeuwin Coast's signature Akoya oysters are harvested off the pristine coast of Albany in WA's Great Southern region. With a similar flavour profile to abalone but with the brininess of a regular oyster, this delicacy is a must-try for any seafood lover.
Chef Stephen Clarke serves the crispy Akoya oysters with ponzu (a citrus-based sauce), cucumber and Donnybrook apple.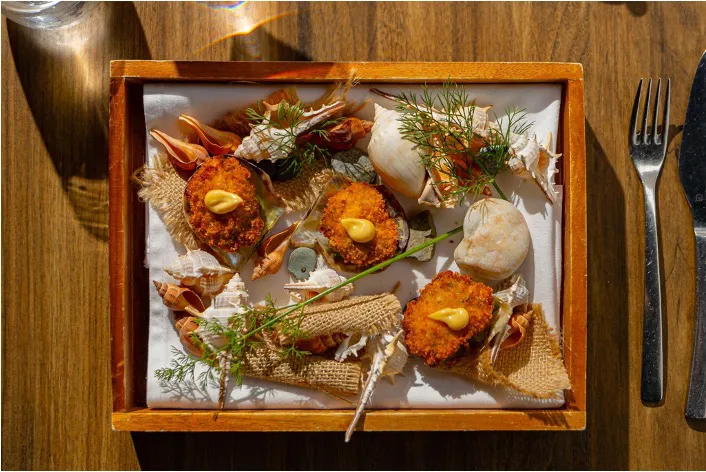 Heirloom beetroot with pickled walnuts
As pretty as a picture, Stephen Clarke's beetroot dish is a feast for the senses. The heirloom beetroot is served alongside orange, crème de coco and both pickled and candied walnuts. This entreé is a go-to for our vegan diners!
If you haven't sampled pickled walnuts before, be sure to order this dish.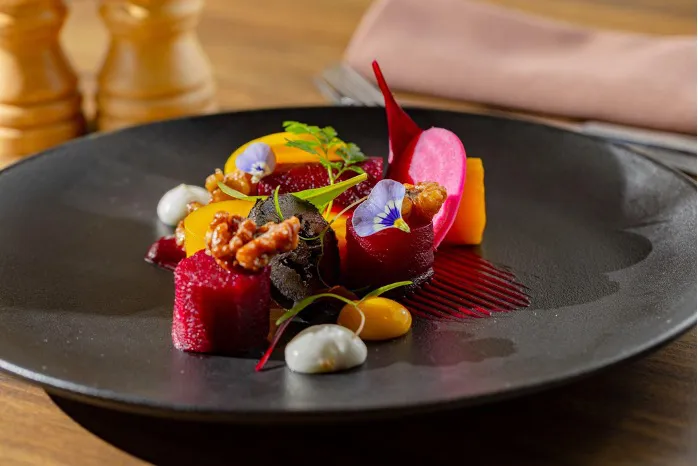 Char-grilled free-range chicken breast
A popular main dish on the new menu is Chef Stephen Clarke's char-grilled chicken breast, using free-range Mount Barker Chicken, and served with sweet corn and mushroom. A creamy sauce is served on the side ready for you to pour over your delectable chicken.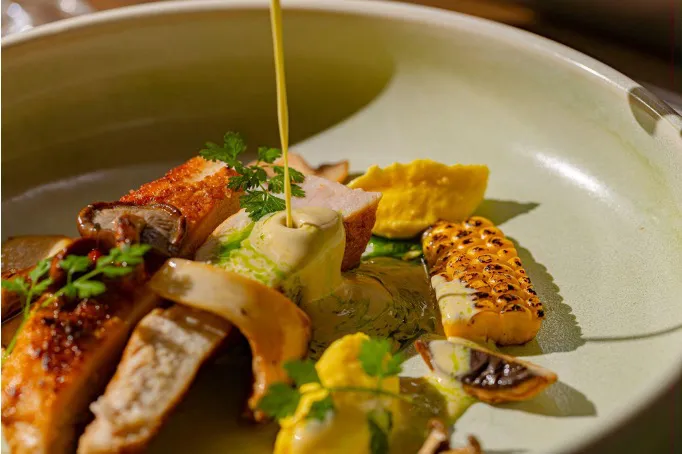 Tasmanian salmon
Enjoy perfectly cooked flaky salmon on a bed of mushrooms, lemongrass and wakame (seaweed). This edible seaweed has a subtly sweet and salty flavour and is used widely in Asian cuisine.
To top it off, a warm orange broth is poured over the dish right before serving.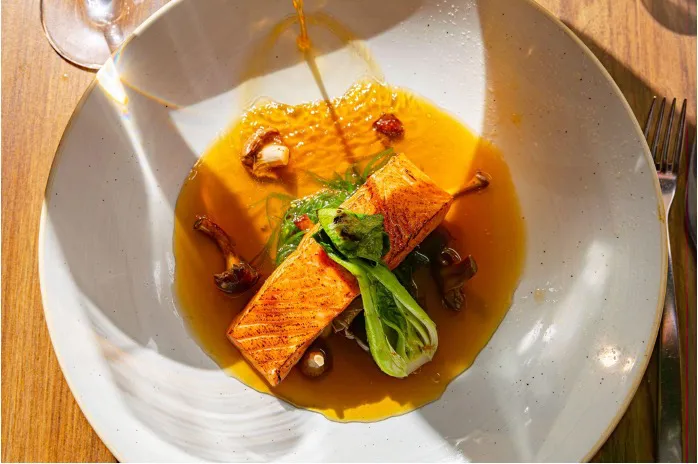 Callebaut Single Origin chocolate tart
If you have a sweet tooth, make sure you order Stephen's creamy chocolate tart, made with Callebaut Single Origin chocolate. The rich and creamy tart melts in your mouth and works perfectly with the accompanying stewed boysenberry and pear sorbet. A must-try for any chocolate lover!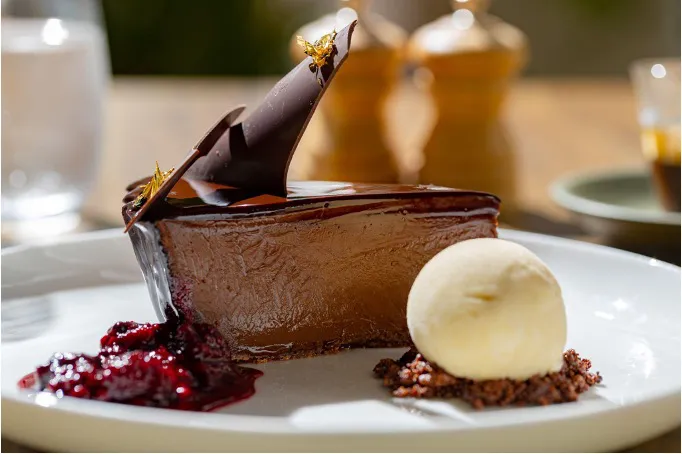 Feeling hungry? Book your table at The Alcove below and try Chef Stephen Clarke's popular new menu.