Your Game Improved
Joondalup Resort Golf Academy & Club Fitting Centre
At Joondalup Resort Golf Academy our PGA Professionals will help you take your game to the next level. Whether you are new to golf or want to improve, our professionals will help you enjoy every aspect of golf and forward your game.
If you are playing regularly you will not 'lose' your swing because our golf teaching practices ensure that we build on what you have and improve the elements as needed.
Our pricing structure allows you to buy one lesson at a time, set packages, attend clinics or just come along to one of our regular workshops.
Contact our Golf Academy
Enquiries can be made through the Golf Academy or at the ProShop. 
Club Fitting & Repairs
Our expert Club Fitter, Vernon Sexton-Finck, uses the latest golf club fitting technology in our purpose-built, indoor-outdoor fitting facility. Our club fitting service is FREE. *Please note: Due to company policy, we don't pass on specifications from club fittings unless purchase is made through the Joondalup Pro Shop.
We stock all major brands and have very competitive prices on all clubs. 
Group Instruction
Golf Clinics
Meet the Team
Our Club Pros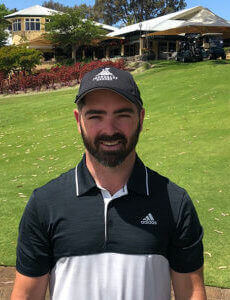 Head Junior Coach
Ackzel is a passionate instructor that simplifies a complex game across all skill levels.
Ackzel heads up the largest junior golf program in Western Australia with well over 150+ weekly participants. With classes starting as early as 4yrs and a weekly free "TRIAL" phase each Saturday for new students, there are options for ALL children.
Contact details:
P: +61 410 083 958 E: adonaldson@joondalupresort.com.au
More about Ackzel
The main focus in all junior academy phases is creating the most engaging experience for ALL ages and skill levels. If your child is enjoying themselves they will want to return. Through multiple visits they will begin to improve their techniques and skills required for the sport. Also, when your child joins the junior academy they receive a complimentary academy cap, bag tag and merchandise to strengthen the bond with the community of students and families.
With over 17+ class options each week, there are multiple days/times for your child.
Contact details:
P: 0410 083 958 E: adonaldson@joondalupresort.com.au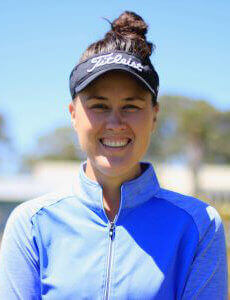 Teaching Professional /
Ladies Group Clinics
Introducing Jess Speechley, our very talented female golf coach. She is committed to exposing more females to the game of golf in a fun environment. She is excited to take the lead in all aspects of women's golf and uses a dynamic approach to improve your game via individual or group tuition.
Contact details:
P: +61 426 242 223
E: jspeechley@pgamember.org.au
More about Jessica
Jess has accomplished many achievements during her extensive career and excelled as an amateur being number one in Australia for 2 years and winning the Karrie Webb scholarship twice before turning professional in 2011. She played professionally for 1 year on the Symetra Tour in America and 3 years on the Japanese Ladies Tour. Her best finishes as a professional was tied 2nd in the New Zealand Open and tied 11th in the Australian Open. She also had her first professional victory on the Japanese Step Up Tour in 2014. Her goal now is to coach up and coming keen golfers like herself and promote female golf.
Her coaching philosophy is to create a fun, inclusive teaching experience based on proven fundamentals that enable the students to take full responsibility for their long-term growth and development in the game at whatever level they aspire in.
Amateur achievements:
West Australian Junior Team- 2006
West Australian Amateur Team- 2007-2011
Australian National Squad Member- 2010-2011
Australian Trans-Tasman Cup Team-2010
Australian Queen Sirkit Cup Team-2011
Karrie Webb Scholarship Winner- 2010 & 2011
West Australian Amateur Champion-2009
Tasmanian Strokeplay Champion-2009
Riversdale Cup Champion-2010
Victorian Strokeplay Champion-2010
West Australian Strokeplay Champion-2010
Number one amateur 2009/2010 in Australia for 2 years before turning pro
Won Karrie Webb scholarship twice before turning pro
Winner of the ANA Princess Cup in Japan (Step up Tour) (First professional win).
Tied 11th best finish in Australian Open
Tied 2nd New Zealand Ladies Open
Contact details:
P: 0426 242 223
E: jspeechley@pgamember.org.au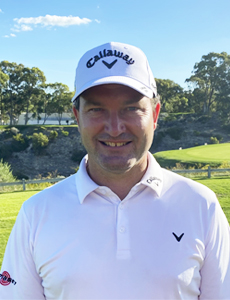 Club Professional – Teaching & Club Fitting
Vernon is our Club Professional and Club Fitter as well as the current PGA National Professionals Champion. He brings an enormous amount of passion and experience to the Joondalup Country Club and Golf Academy. He also offers a premium level of coaching, club fitting and club repair services using TrackMan technology and a customer based approach.
Contact Details:
P: +61 421 783 156
E: vsexton-finck@pgamember.org.au
More about Vernon
After playing professionally on the Asian Tour, on mini tours in the USA, Europe and the Australasian Tour, Vernon settled into this club role with the purpose of providing an elite level of service to the members and guests.
With over 15 years experience coaching at a beginners level and at WA State level, he has all the necessary tools to simplify his coaching style to suit all standards of golfers.
Contact Details:
P: 0421 783 156
E: vsexton-finck@pgamember.org.au
Get in touch
Contact the Golf Academy